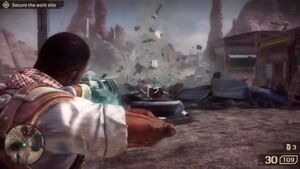 Ammo Boxes are Troop exclusive Pickups that have special properties when found. They do not give new weapons, but rather give ammo for each weapon a player currently has in their Weapons Cross.
Properties
Edit
Ammo Boxes give up to a certain amount of ammunition for each weapon, which is detailed below (this information can also be seen on each Troop weapon page). There is no limit for the total ammo an Ammo Box can give; if one player has every weapon in his or her inventory, an ammo box will give ammo to every weapon.
Ad blocker interference detected!
Wikia is a free-to-use site that makes money from advertising. We have a modified experience for viewers using ad blockers

Wikia is not accessible if you've made further modifications. Remove the custom ad blocker rule(s) and the page will load as expected.