Classic Arcade Flight is a Flight Mode in Starhawk. There are key differences between Classic Arcade Flight and Normal Flight and Pro Flight:
The camera horizon is maintained during flight.
The reticule is not fixed and can move with the Hawk.
The Right Stick performs advanced evasive maneuvers, namely fast loops and spins.

Basic Controls
Edit
Square - Mount/Dismount Vehicle
O - Transform between Flight/Mech
===Flight Mode Controls===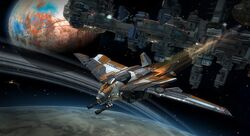 R2 - Boost (Double Tap for Afterburners)
L2 - Slow Down
Left Stick - Steer
L2 + R2 + Left Stick - Powerslide
X + Left Stick - Basic Dodges
Right Stick - Advanced Evasive Maneuvers
D-Pad - select Hawk weapon
L1 - Fire selected weapon
R1 - Fire Hawk Machine Gun
R3 - Chaff/Flares
===Mech Mode Controls===
Left Stick - Move
X - Jump
Right Stick - Aim Reticule
R3 - Stomp
D-Pad - select Hawk weapon
L1 - Fire selected weapon
R1 - Fire Hawk MG