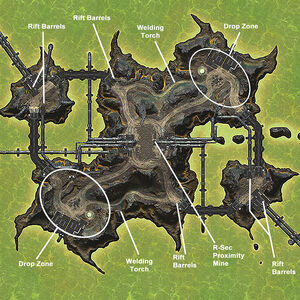 Conduit (Originally named 'Acid Sea', then 'Scourge') is a multiplayer map that takes place on the moon of Scourge.
Appearance
Edit
It is a barren, nearly lifeless enviorment surrounded by a sea of lethal green acid and plants that have adapted to the harsh conditions. There are numerous pipes and platforms in the center. There are two bridges that lead to separate islands.
Gameplay widely varies on Conduit, with each team trying to gain the upper hand by establishing Outposts on the outer islands and in the center of the map.
Weapon Locations
Edit
add some weapon locations!
Loadout Support
Edit
Conduit supports all six Loadouts.
Strategy/Tips
Edit
Conduit offers three ways to get to the enemy base. If the enemy has one way heavily guarded, try another route.
Conduit was shown in the first multi-player trailer.
---
Ad blocker interference detected!
Wikia is a free-to-use site that makes money from advertising. We have a modified experience for viewers using ad blockers

Wikia is not accessible if you've made further modifications. Remove the custom ad blocker rule(s) and the page will load as expected.