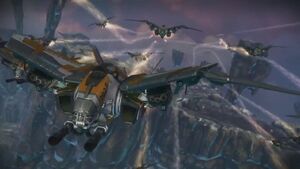 Flight Mode is a form the Hawk can transform into. Flight Mode gives the Hawk the ability to control the skies and perform air-to-ground assaults. The alternate mode is Mech Mode.
To decide which flight mode is right for you, read How To Decide On Flight Mode
Flight Mode can also refer to the three control schemes for the Hawk that players can choose from the Uplink based on their preferences. The three Flight Modes are listed below:
Ad blocker interference detected!
Wikia is a free-to-use site that makes money from advertising. We have a modified experience for viewers using ad blockers

Wikia is not accessible if you've made further modifications. Remove the custom ad blocker rule(s) and the page will load as expected.