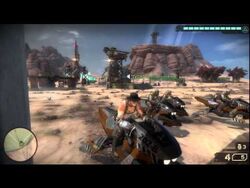 The Homeworld is a type of online lobby in Starhawk where players can invite friends and socialize and build before entering a match. There are 6 barrels of Rift Energy for players to collect, The Homeworld feature is accessible from the Uplink.
List of Homeworlds
Edit
There are currently three Homeworlds in Starhawk.
DLC Homeworlds
Edit
Ad blocker interference detected!
Wikia is a free-to-use site that makes money from advertising. We have a modified experience for viewers using ad blockers

Wikia is not accessible if you've made further modifications. Remove the custom ad blocker rule(s) and the page will load as expected.