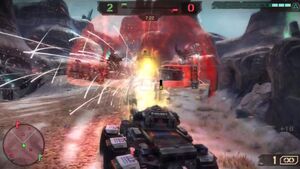 Lost Canyon is a multiplayer map that is located on the moon Echo.
Appearance
Edit
Lost Canyon has a lot of elevation change, with a large land bridge doubling as a tunnel dividing the two bases. The map is scattered with thin trees and shrubbery. With giant curved spires of rock jutting out of the canyon itself.
The large elevation changes make for exciting and hectic battles. There are many chances to flank an enemy, especially when using the underpass or the land bridge. The edges of the canyon itself can be built on, allowing teams to set up sneak attacks and excellent sniping locations.
Weapon Locations
Edit
add some weapon locations!
Grinder - On the side of the large land bridge.
Loadout Support
Edit
Lost Canyon supports all six Loadouts.
---
Ad blocker interference detected!
Wikia is a free-to-use site that makes money from advertising. We have a modified experience for viewers using ad blockers

Wikia is not accessible if you've made further modifications. Remove the custom ad blocker rule(s) and the page will load as expected.