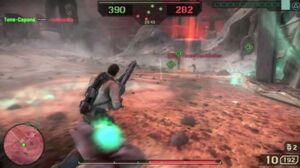 Narrows is a multiplayer map that is located on a moon of Dust, Echo.
Appearance
Edit
Narrows has high elevation shifts and narrow chokepoints dotted with trees, grasses, and tall, curved spires of rock. A pipeline runs through the map, and there is also a large multi-level defensible platform in each base.
The large elevation changes make the perfect environment for sniping and sneak attacks. The large rock formations turn low-altitude dogfights into cat-and-mouse chases though arches and around spires.
Weapon Locations
Edit
add some weapon locations!
Loadout Support
Edit
Narrows supports all six Loadouts.
Strategy/Tips
Edit
Try taking different routes to the enemy base to catch them off guard.
Build an Outpost on the large platform overlooking the center of the map and build a base around it. Block the enemy's route to it with a Wall or a Supply Bunker to get a well protected forward spawn.
---