Orbital Lift Complex
Co-op Map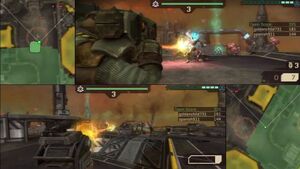 "Scourge is humid, dangerous, and charged with rift energy. The Union pipeline ships this precious resource to the central lift complex in the Spur."
Orbital Lift Complex is a playable map in Prospector that takes place on the planet of Scourge, near the last working Orbital Lift Complex.
Structure Availability
Edit
Each Prospector Map has a unique loadout, and Orbital Lift Complex is no exception. The structures available in Orbital Lift Complex are listed below.
---
Ad blocker interference detected!
Wikia is a free-to-use site that makes money from advertising. We have a modified experience for viewers using ad blockers

Wikia is not accessible if you've made further modifications. Remove the custom ad blocker rule(s) and the page will load as expected.