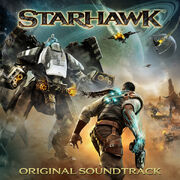 Starhawk (Original Soundtrack from the Video Game) is a selection of music taken from the 2012 video game Starhawk. It was composed by Christopher Lennertz, who also composed the music for Warhawk.
Influence and Style
Edit
Aside from the the space western theme, Lennerz has also incorporated instruments from different ethnic backgrounds to create a unique sound that complements the vast unknown frontier presented in Starhawk.
Song List
Edit
The soundtrack contains 23 songs.
Homeworld - 2:21
Rifter Pride - 2:12
The Outcast - 2:11
Prologue - 2:09
A Tale of Two Brothers - 1:19
Work Site Raid - 2:00
Into the Fray - 1:04
Hawk Battle - 2:48
Come and Get It - 1:10
The Pipeline - 2:12
Down to the Wire - 1:12
Abandoned Settlement - 1:36
Battle at Ballard's Crossing - 2:10
Orbital Defense - 2:03
Bring 'em Home - 1:39
Train Robbery - 1:54
Road to White Sands - 2:16
Homeworld Under Siege - 2:15
Fleet Battle - 2:00
Heroism - 2:30
The Crash Site - 2:10
The Rift - 2:42
Emmett's Theme - 2:08
Availability
Edit
The soundtrack was given to anybody who preordered Starhawk through GameStop. The soundtrack is also available for purchase separately through the PlayStation Store and iTunes.
Ad blocker interference detected!
Wikia is a free-to-use site that makes money from advertising. We have a modified experience for viewers using ad blockers

Wikia is not accessible if you've made further modifications. Remove the custom ad blocker rule(s) and the page will load as expected.