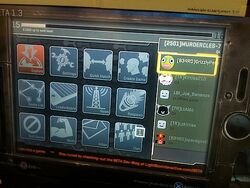 The Uplink is a navigation device used as the menu and user interface for Starhawk.
In the Story
Edit
The Uplink is very common in the Starhawk universe as a communications device. It is the equivalent of a modern-day smart phone or tablet computer.
The Uplink is pulled up when Multiplayer is selected from the Main Menu. From here, player can access a number of features:
Campaign - The single-player campaign.
Quick Match - Starhawk's version of matchmaking.
Game List - View the list of servers. Features filters and sorters to find the game you desire.
Create Game - Allows you to create your own server.
Co-op - Access Prospector mode.
Customization - Customize your character and vehicles.
Skills - Purchase skills that augment your abilities in battle. (Only accessible in-match, unknown if glitch will be fixed)
Settings - Settings for the game.
News - View news from LightBox Interactive.
Clan - A robust clan feature.
Calendar - View upcoming events.
Leaderboard - View the top players.
Inbox - View game invites and clan invites.
MP Homeworld - Enter a lobby where you can freely build and invite friends.
Split Screen - Allow a second user on your console to join.
Explore - Explore the maps safely by yourself.
Only In-Match
Edit
Respawn - Commit suicide and redeploy.
Switch Teams - Switch to the other team.
Quit Game - Quits the current session and returns you to the Main Menu.