Vulture Station
Build & Battle Structure

The Vulture Station in action.
Multiplayer
Structure Information
Rift Cost
5 Cells
Health
♥ ♥ ♥ ♥
Function
Spawns Vulture Jetpacks
Vulture (Spawn Info)
Rift Cost
2 Cells (zero initial)
Respawn Time
3.0 Seconds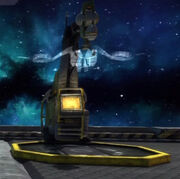 The Vulture Station is a Build & Battle structure found in both multiplayer and the single-player campaign. It spawns Vulture Jetpacks for the player to use.
Appearance
Edit
The Vulture Station is a small vehicle dispenser that makes Vulture Jetpacks. The control panel is attached to an small arm that places the pre-built jetpack onto the player.
Availability in Multiplayer Loadouts
Edit
The Vulture Station is available on every loadout except Ground Pounder and Heavyweight.
Strategy/Tips
Edit
Vulture Stations are rather weak, so be careful where you place them.
When buying a Vulture Jetpack, there is a small window of vulnerability while you put it on. Placing the Station in a location hidden from snipers can keep players from dying when getting a jetpack.
---